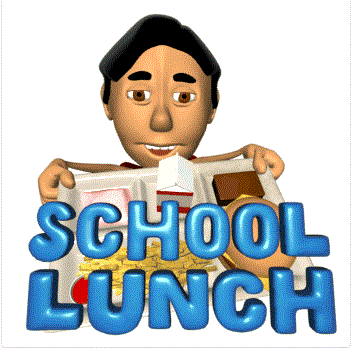 LUNCH MENU
LUNCH MONEY REMINDER
REMEMBER: PLEASE DO NOT USE YOUR CHILD'S LUNCH VOUCHER UNTIL YOU RECEIVE THEM.
***LUNCHES ARE $3.00 AND INCLUDE 1 MILK.

IF YOU HAVE MORE THAN ONE CHILD THAT YOU ARE SENDING IN LUNCH MONEY FOR, YOU MAY SEND THE MONEY WITH ONE CHILD IN AN ENVELOPE MARKED LUNCH MONEY WITH THE DAYS LISTED THAT YOUR CHILD IS GETTING LUNCH AND THAT THE MONEY IN THE ENVELOPE IS FOR ALL OF THE CHILDREN. MAKE SURE YOU SEND A NOTE WITH EACH CHILD FOR THE DAYS THEY ARE GETTING LUNCH SO THAT THEIR HOMEROOM TEACHER CAN MARK DOWN THAT THEY ARE GETTING LUNCH. UNLESS YOU SEND A NOTE TO EACH TEACHER WITH THE DAYS YOUR CHILD IS GETTING LUNCH, THEY HAVE NO WAY OF KNOWING THAT YOUR CHILD NEEDS A LUNCH. IF YOU HAVE ANY QUESTIONS ON HOW TO SEND IN LUNCH MONEY, ASK YOUR CHILD'S TEACHER OR ASK IN THE OFFICE. THANK YOU FOR YOUR HELP IN THIS MATTER.